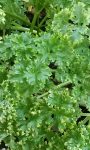 Parsley is one of the most popular herbs in the world. Easy to grow, you can also find this biennial plant in most supermarkets year round. While perhaps not the most glamorous of herbs, parsley is versatile, nutritious and offers many health benefits. If you think parsley is just a decorative garnish, you're missing out!
Herbs and spices add flavor to foods but are powerful disease fighters, rich in nutrients. Parsley is high in vitamins K and C and is a good source of vitamins A and folate (per 1/2 cup, fresh). Parsley contains two health promoting compounds: volatile oils and flavonoids. Some of the benefits of parsley's compounds include reducing inflammation, promoting heart health, a strong immune system, healthy bones and more.
Fresh is best. Look for vibrant green leaves, absent of dry, wilted yellow patches. Keep fresh parsley in a plastic bag in the refrigerator.
Sprinkle chopped parsley on everything including meats, poultry and fish. Add parsley to salads, salad dressings, soups and sauces. Chop the stems for a crunchy topping to pasta and potato salads. Add a handful to your favorite green smoothie recipe. Make a delicious pesto with fresh basil, spinach, parsley, garlic, pine nuts, olive oil, lemon juice and fresh parmesan.