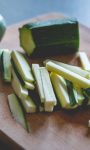 This fresh vegetable-forward summer squash recipe is reminiscent of the south of France with the addition of Herbes de Provence, an herb blend that typically includes dried basil, fennel seed, marjoram, rosemary, sage and thyme. If unavailable, you can substitute 1-2 tsp of these herbs instead.
Ingredients:
2 tsp. olive oil
1/2 cup chopped onion
1 large zucchini, cut into 1-inch cubes
1 large yellow squash, cut into 1-inch cubes
2 garlic cloves, finely minced
1 tsp. Herbes de Provence
1/2 cup cherry tomatoes, halved
Salt and fresh ground black pepper, to taste
1/4 cup crumbled feta cheese
Preheat oven broiler. In a large skillet, heat oil over medium-high heat. Add onion and sauté 3 minutes. Add zucchini and yellow squash and sauté 5-6 minutes. Add garlic and sauté 2 more minutes.
Add Herbes de Provence, cherry tomatoes and salt and pepper, to taste. Transfer mixture to a casserole dish. Sprinkle with feta cheese. Place under the broiler for a few minutes, until cheese melts. Less than 100 calories and 3 g fat per serving.