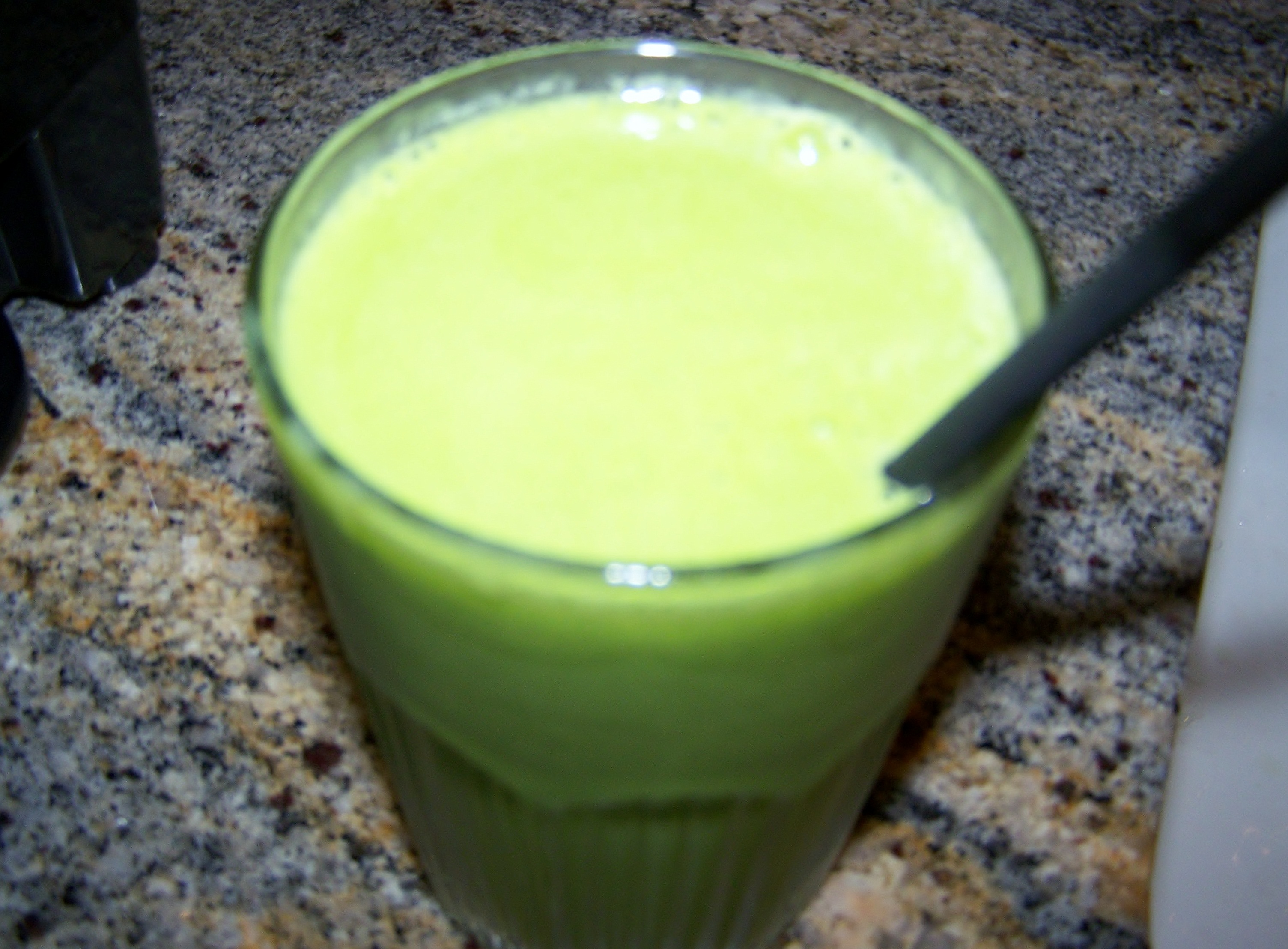 This all-green smoothie recipe not only looks pretty, but it tastes wonderful. Experiment with the ingredients or try the green smoothie recipe as it is listed below. Beware: I don't 'measure' ingredients for this or any other green smoothie recipe.
I have found that I prefer the consistency when I use frozen fruit and less ice, such as banana slices or frozen mango cubes (from fresh). Another factor that affects flavor, nutrition profile and consistency of this green smoothie recipe and other smoothies is the use of protein powder. There are dozens of protein powders available. Currently, I am trying one made by 'Nature's Bounty' (whey-based). It is located alongside the 'Nature's Bounty' vitamins and dietary supplements. I use one scoop but the nutrition information is listed for two scoops. One scoop provides about 7.5 g protein, 2 g dietary fiber and 60 calories. It is low in carbohydrates and fat. Choose vanilla-flavored protein powder over chocolate for most smoothies, especially this green smoothie recipe as chocolate protein powder alters the flavor too much.
Blenders for a Green Smoothie Recipe
You can use any blender that is higher in quality (usually priced at $25.00+) to prepare this green smoothie recipe. Look for multiple 'buttons' and settings that allow you to crush ice and chop. If you do not have or cannot afford a Blendtec or Vita mix, which are both very expensive blenders, try the Ninja (available at Walmart) or the Magic Bullet (available for purchase online – both cost $100.00).
The ingredients I use for this green smoothie recipe are inexpensive as I choose 'in-season' produce and freeze fresh fruit/veggies when bagged frozen are more expensive and vice versa. In terms of servings per recipe… using my 'non-measuring' technique, the recipe yields enough so that I can pour a tall (about 16 oz.) glass for myself and a couple of short shots for eager tasters. Adjust the amount of each ingredient to suit your tastes. Remember, these are my estimated portions for each ingredient. Layer the ingredients in the order listed, starting with green grapes…
Basic Green Smoothie Recipe
1/2 cup or so seedless green grapes
2 handfuls (nearly 2 cups) fresh baby spinach
1/2 cup or so of fresh kale (no stalk if you are using a conventional blender)
1/2 cup plain non-fat yogurt
1 scoop vanilla protein powder
1/4 fresh avocado
1/4 fresh cucumber (no skin)
1/2 frozen banana slices
3 chunks frozen cubed mango
2 fresh basil leaves
2 fresh mint leaves
1/3 cup light coconut milk (unflavored)
additional skim milk if more liquid is needed
Ice cubes as desired for proper consistency
Green Smoothie Recipe nutrition analysis
Per serving (makes about 1.25 servings): 357 calories, 11 g fat (4.5 g saturated), 49.5 g carbohydrate, 8 g dietary fiber, 22 g protein, 181 mg sodium and 31 mg cholesterol. This is a wonderful meal replacement. Vitamin and mineral highlights of this green smoothie recipe: very high in vitamins A and C; high in calcium, manganese and potassium. It is low in sodium and has a moderate sugar content (much less than a can of soda!!)