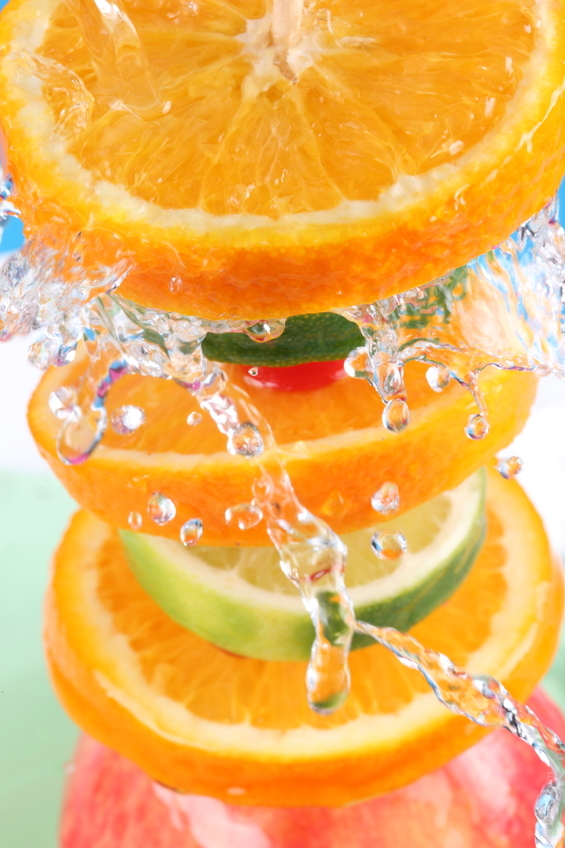 Hydration and Exercise Essentials
Writing about hydration tips to beat summer heat would be incomplete without additional information on hydration during exercise (especially in summer heat). Most individuals that engage in low/moderate intensity exercise for less than 60 minutes short-duration can stick with water for hydration. Start your exercise routine well-hydrated, sip 4 to 8 fluid oz. of water every 15 minutes or so, and drink water after you are finished.
Exercising in summer heat (extreme temperatures) and/or for more than 60 minutes calls for more than water for optimum hydration. Consider supplementing with a sports drink. —Sports drinks contain a dilute mixture of carbohydrate and electrolytes. —Most contain about 50 kcal/cup with about 3 to 4 teaspoons of carbohydrate  (sugar) and moderate amounts of sodium (lost in sweat) and potassium. They are formulated to contain less sugar than juices, for optimal, fast absorption (6-8% carbohydrate). A risk of exercising in extreme heat, for long periods, without a sports beverage, is developing "hyponatremia" (low blood sodium). Diluted blood causes nausea, vomiting and can lead to serious health impairment, even death.
Hydration: Homemade Sports Drinks and Post-Workout
You may dilute juices to create a 6% carbohydrate solution. Try V-8 (high in sodium and potassium) and/or orange juice (high in potassium). Mix with water in a 50/50 ratio. This 'homemade' sports drink, like commercial varieties, is also more quickly (better) absorbed than straight juice.
Weigh yourself before and after heavy workouts, especially those that cause excessive perspiration. For every pound you lose during your workout, drink 2 cups of fluid. After workouts, you need to replenish glycogen stores and you need moderate amounts of protein so consider drinking a truly nourishing beverage (with some sugar), like low-fat chocolate milk. Another suggestion is to blend a quick refreshing smoothie made with fruit and/or vegetables, yogurt and a bit of juice and/or milk. Drinking a smoothie post-workout offers hydration benefits and key nutrients such as protein and carbohydrates.