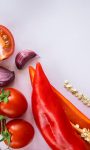 Eating clean or 'clean eating' refers to a popular diet trend characterized by a few key features. Some of these features include eating locally (and supporting sustainable practices), minimizing processed foods, nourishing yourself on whole foods, such as whole grains, fruits and veggies regularly throughout the day. Clean eating also recommends limiting unnecessary extras, such as alcohol, added sugars and sodium. Clean eating is not an 'all or nothing' concept. Small changes add up over time and can make a difference in your environment and your health.
One of the key characteristics of clean eating is minimizing processed foods. What is a processed food? A processed food is a food item that has been modified through mechanical or chemical operations to change it. According to the USDA, this includes, but is not limited to milling, chopping, heating, drying, canning…etc. Clean processed foods do exist such as whole grain pasta, whole oats and plain yogurt. However, many processed foods contain sugars and other additives (natural and man made). Part of the recommendation for limiting packaged foods is because of BPA, a chemical found in cans, as well as chemicals in plastic. Explore your grocery store for 'cleaner' versions of many packaged and bottled foods, such as condiments.
Clean eating is a trend geared towards minimizing food waste, promoting local foods and sustainable farms and minimizing the 'junk' in the American diet. It is not just a diet trend but a food movement.